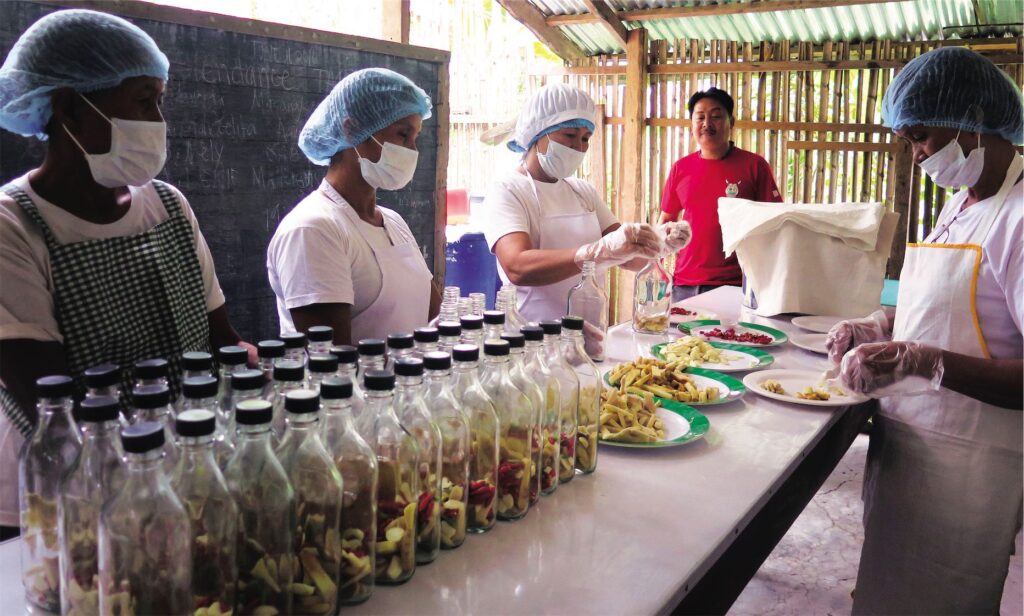 The Filipino kitchen is never without two things: vinegar, an integral part of Philippine cuisine both as dipping sauce and means of preservation; and coconut, a versatile drupe whose fronds, meat, and juice forms the foundation of our dishes. The Mandaya-Dibabawon tribe of Buclad Tribal Council from Asuncion, Davao del Norte marries two Philippine traditions to come up with Sukang Bagani,an organic, fermented coconut vinegar that reaches the internationally accepted standard of vinegar acidity of 4.5 ph.
Sukang Bagani is representative of the Mandaya's rich culture of courage, bravery, and heroism. Its name comes from Bagani, a dauntless defender of the Mandaya ancestral domain, whose qualities were that of a great leader and fearless fighter. Enriched with langkuwas (ginger) that gives the vinegar its characteristically robust, sour flavor and katumbaw (hot chili) for its piquant taste, Sukang Bagani remains true to its namesake.
The production of Sukang Bagani was propelled by the abundance of coconut trees in the community, prompting Datu Joel Andoy and BTC's partner organizations to push for a coconut vinegar production.
Datu Joel is a 47-year old Barangay Tribal Chieftain and a Municipal Nutrition Action Officer of Asuncion. Upon becoming chieftain in 2005, Datu Joel spent his time reading and studying about the Indigenous Peoples Rights Act (IPRA) that served as his guide to tackle the concerns of his community. His primary concerns as a chieftain were poverty, hunger, and malnutrition in the community.
One day on the same year, Datu Joel chanced upon a newspaper in Davao City where he found out that San Pedro College conducted outreach programs. He went straight to San Pedro College's Community Extension Office to introduce himself and his community. "Perhaps they were touched by my story," recalls Datu Joel, "that they were convinced to visit us for an ocular inspection." San Pedro college helped by trying to recommend them to the Philippine Coconut Authority but because of logistical difficulties that would affect regular monitoring, they were referred to St. Mary's College of Tagum. St. Mary's College of Tagum was receptive of the plans to make coco vinegar, due to the copious amount of coconut trees in the area.
Through the help of St. Mary's College of Tagum in drafting a proposal for their coco vinegar production, the Department of Science and Technology (DOST) gave the community a grant for their processing center. St. Mary's College of Tagum became a proponent in managing the processing center where the community stood as beneficiaries. DOST, in turn, helped in making sure that the process for coco vinegar production was done scientifically while remaining organic.
When the five-year limit of St. Mary's College outreach program came, the community did not need an interim period as new beneficiaries because the Pamulaan and Assisi Foundation came at the right time.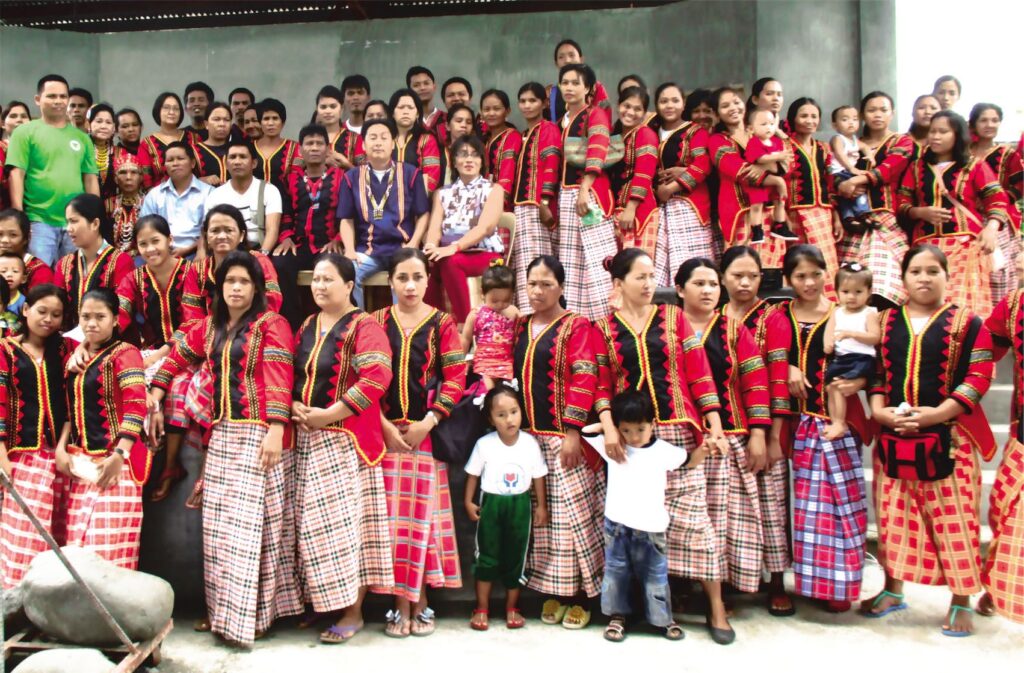 The Buclad Tribal Council was invited to the 2012 Kalindogan National Indigenous Peoples Young Leaders Congress organized by Pamulaan and Assisi Foundation. Driven by the congress' focus on Social Entrepreneurship, the council applied for the two-year Indigenous Peoples Leadership and Enterprise Development (IPLED) Academy program to study how to effectively manage their business—Datu Joel felt that they were still lacking in experience to manage by themselves since they did not directly manage the coco vinegar enterprise before.
Two years later, they are the main stakeholders of Sukang Bagani. They have their own money in the bank and their income does not rely on salary alone but from their shares left after subtracting council and business expenses in their annual profit.
Datu Joel emphasized the need for the IP community to be actively involved in trainings and exposures. He thinks that this would enhance how one views the self in relation to the community. He also stressed unity and cooperation as key to the success of Sukang Bagani.
Because of BTC's collective work, they are now well versed in marketing, production, and finance. But more importantly they became empowered and confident in handling Sukang Bagani by themselves. The team responsible for Sukang Bagani is currently comprised of 10 people: Datu Joel Andoy as the overall supervisor; Josue Cabatlao as Delivery in Charge; Lenie Manliguis as Production Quality Control-in-Charge; Ma. Emerita Ponce as Bookkeeping-in-Charge; Marcelita Aquino for Procurement-in-Charge; and Analiza Dinapo, Leionila Sabudan, Alona Sugoyan, Aurora Masangkay and Lorna Ea as production workers.
The production of Sukang Bagani not only helps the vinegar processors through additional income and dividend sharing. Coconut farmers from the area also benefit from the production. Coconut water previously disposed of because they were seen as invaluable is now being sold to Sukang Bagani. Aside from that, the coco vinegar processing center has become a site for trainings and tourism. Members who show interest are trained incoco vinegar production while some students from St. Mary's College come to see the process.
One of the strengths of Sukang Bagani is the partnerships it has built over time. The Marketing Link in charge for advertising their product, for example, is comprised of Agriculture and Tourism Offices of the Local Government Unit of Asuncion, Davao del Norte; the Department of Social Welfare and Development; Department of Trade and Industry; and Davao del Norte Investment and Promotion Center. The National Commission on Indigenous Peoples (NCIP) also became a market of the product. They have also product displays at JS Gaisano Supermarket, DavNor Pasalubong Shop,Advocafe-Davao, and Pamulaan Center for IP Education.
This is a clear illustration of what Datu Joel has learned in handling a business: in a social enterprise, harmony, humility, and empathy encourage the community to work together for the development of a certain project.
The remaining challenge is the approval from the Bureau of Food and Drugs (BFAD) that impacts their starting capital and sales. Members take it upon to contribute and share the costs, a personal investment that underscores how important the business is to them. However, there is little that can be done to the deteriorating condition of the processing center brought about by floods in the area and the lack of additional resources for maintenance and upgrade. The absence of a BFAD approval affects the competitive edge of Sukang Bagani in the mainstream market.
The dream, according to Datu Joel, is to be approved in order to cater to a bigger market. In the myriad of choices for coco vinegars in the market, there is one product that is the pride of a community. A coco vinegar that showcases the quality of indigenous production. But more than a flourishing business, Datu Joel says, Sukang Bagani is a social enterprise that would empower the next generation of Mandaya-Dibabawon.
ABOUT BUCLAD TRIBAL COUNCIL
Buclad Tribal Council is a Mandaya-Dibabawon people's organization, established in 1992. It is registered to the Department of Labor and Employment. It is currently serving indigenous farmers, children, and women in the field of sustainable agriculture, integrative health, holistic education, and social enterprise development.