For Ludivina Adimat, pushing for a Cacao Processing enterprise was a natural move from her responsibilities at home. Ludivina's typical day meant waking up to cook breakfast, accomplishing daily chores at home, tending to their garden, and going to the farm as needed. After farming, just as day break approaches, she goes home to cook dinner for her family. Wednesdays and Fridays are reserved for washing clothes and tending to their garden at home; other days are meant for fulfilling her duty as a Barangay Health Worker (BHW) and her obligations as a Processor and Treasurer in the Cacao Enterprise.
It was the lack of women present in the decision making and implementing body that made Ludivina want for a gender inclusive social enterprise. "The men weren't really interested in cooking," she says, "so what would happen if we left men to it? No one would process the cacao!" Women on the other hand, from the extension of their work at home, are very interested in kitchen work.
Ludivina was originally enrolled in trainings related to health because she was a Barangay Health Worker but was able to attend later trainings on social enterprise.
The Cacao Processing Enterprise of the community was an output of the IP leaders from the Federation of Matigsalug-Manobo Tribal Councils (FEMMATRICs) enrolled under the Indigenous Peoples Leadership Development Academy (IP LED) of Pamulaan Center for Indigenous Peoples Education.They were trained for two years and were assisted in putting up the enterprise as a sustainability mechanism of the Indigenous Peoples Maternal Neonatal Childhealth and Nutrition Program (IP MCHN), a partnership project of Pamulaan Center for IP Education, National Commission on Indigenous Peoples, and the European Union.
The main product, tablea, is roasted, ground and molded nibs of fermented pure cacao beans without additional ingredients and additives.
They chose tablea because of the seedlings given by Pamulaan and Peace and Equity Foundation (PEF). When the seedlings bore fruit, the community found out that making tablea wasn't difficult and there was a growing market for it.
Pushing for the cacao enterprise was principally a woman-led initiative. "Women make it a point to look for a way to do what it is they want—like cooking; men don't have enough patience for processing cacao because they have other priorities to consider." Women, however, were not just confined to cooking or household chores; they were farmers in their home gardens and joined men in the field.
Women in the community are traditionally beads and handicrafts makers but Ludivina saw the importance of capitalizing on their skills in brewing herbal teas and making cacao. Moving to a cacao enterprise would mean they would have income outside the seasonal demand of handicrafts. "Making tablea was easier to market since Sinuda, Kitaotao, Bukidnon's weather is cold and the community would not need to go somewhere far to buy their cacao."
Ludivina notes how far women have come from not knowing how to count money to sharing the financial concerns of the household. Now, Ludivina is the treasurer of the cacao enterprise and the one responsible for the budget of her household. The IP LED program has helped Ludivina in further understanding the technical expertise to run the enterprise. During a session on social enterprise
Ludivina attended, she was inspired to make a survey in lieu of a market study. Pamulaan also helped in teaching the enterprise how to make tablea, leading to 13 sacks of sales on their first attempt at production last 2015. Pamulaan also motivated them to try making other products like ginger granules, guyabano, and lagundi (Chinese chastetree).
Through the help of Pamulaan in capacity building and training and giving materials for building the enterprise; the European Union providing funds; and FEMMATRICs as the foundation and support for the enterprise's development, Ludivina has learned tremendously. She learned how to manage her time wisely, to be business minded, to know how to sell her product well, and how to correctly make and process delicious tablea. Members from her family have learned the trade of processing cacao as well, and through Pamulaan, has helped in her son's education. Her son is currently studying in Pamulaan.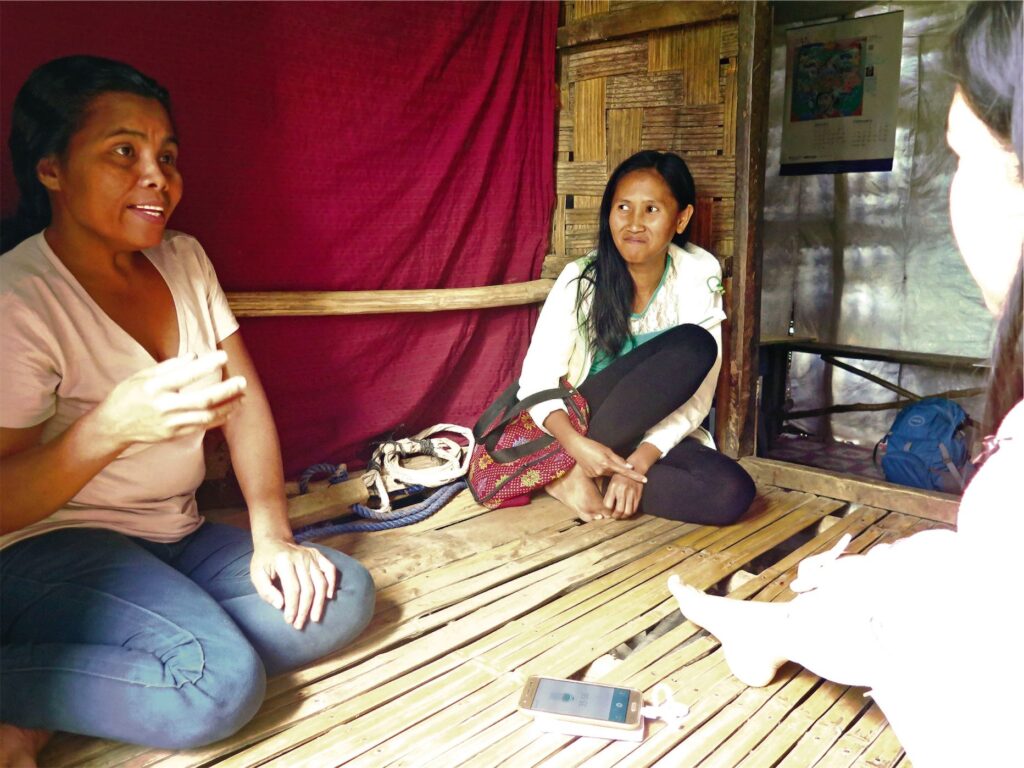 One core essence of a social enterprise is its social and environmental purpose that guides it—it is invested in a vision of positive change. The Cacao Processing enterprise has helped increase the fund of the FEMMATRICs, the product has contributed to the feeding programs of the barangay, and the community has learned to be more aware in right and just practices of running a business. As a leader, Ludivina emphasizes transparency in the relationship among members of the enterprise. Respect for the working relationship among the members would lead to a sustained healthy relationship, she says. To avoid doubts, she regularly reports the state of their finances to their farmers. The enterprise also endlessly tries to sustain an organic agriculture in planting and growing their cacao.
While the enterprise faces challenges like lack of capital to sustain bigger production, the members and the farmers decided to contribute as a form of personal investment. Ludivina says that because members funded the enterprise from their own pockets, they are even more motivated to keep the enterprise running. There is also a lack of machinery for a bigger operation but through the support of Pamulaan, the equipment needed will be provided for. Increasing the production of tablea would also solve the enterprise's deficits in labor.
Despite this, FEMMATRICs sees the strength in the enterprise they started and have bigger plans for the future: reorganizing the business unit to compartmentalize responsibilities, enroll in trainings to improve in basic accounting and bookkeeping, to come up with a good brand name, register the business in the Deparment of Trade and Agriculture, and getting the seal of approval from the Food and Drug Administration of the Philippines. Concrete and tangible goals, as expected from an enterprise that began with seedlings and women's initiatives to be included.
ABOUT FEMMATRICs
The Federation of Matigsalug-Manobo Tribal Councils (FEMMATRICs) is a people's organization whose ancestral domain covers the municipalities of Kitaotao, San Fernando; Kibawe and Quezon, Bukidnon; portions of Paquibato and Marilog Districts of Davao City; and municipality of Arakan in North Cotabato. It has a total land area of 102,324.81 hectares. The creation of the people's organization was spearheaded by the late Supreme Tribal Chieftain, Datu Lorenzo B. Gawilan, Sr. sometime in the mid-1970s. The project area where the social enterprise is located is Brgy Sinuda, Kitaotao, Bukidnon which has an approximate population of 22,747 persons.